Interviews
Usse in Discussion 9 April 2020
Interview by Raymond Biesinger and Photo by Stephanie Tierney
When Usse writes that they are "a fluid recording and sound-making effort" they mean it—this is a project with four people at its source and numerous outflows. The Saint John-based act has released field recordings audible only in-person, not-for-profit charity digital songs, small-run CDs, parades of singles, and tracks on every Pentagon Black compilation. Their influences cut and graft Can, Sun Ra, MC5, and African Head Charge, and with that comes a clearly-expressed political voice rarely heard in a scene where words are usually buried deep in the mix. A few weeks ago they released Rags of Declaration, a split paper single with Ottawa-and-Hull sonic avant garde act H. de Heutz. Maybe it's a good time to chat with some of them? Things discussed in this interview include:

Usse (http://usse.bandcamp.com)

Visitors (http://shopvisitors.ca)
Mohawks of the Bay of Quinte (http://mbq-tmt.org)
"First Past the Post" (http://wikipedia.org/wiki/First-past-the-post_voting)

H. de Heutz (http://hdeheutz.bandcamp.com)

Local 107.3 FM (http://localfm.ca)

Artifiseer (http://www.facebook.com/ArtifiseerOfficial)
Stellaleona (http://interstellaleona.bandcamp.com/)

White VHS (http://www.facebook.com/Hayden.White.Music)
Skin Tone (http://soundcloud.com/skin0tone)
Backstreet Records (http://www.facebook.com/backstreetrecordsSJ)
Thunder & Lightning (http://www.facebook.com/thunderandlightningpub)

Chris Claremont (http://wikipedia.org/wiki/Chris_Claremont)

RB: Usse is currently Jud Crandall, Emily Saab, Sebastian Fleet, and Stephanie Tierney. I've met Jud and Emily but I think I've never met Seb and Steph—the one time we played together Usse was in two-piece form. What roles does everyone play in the project?
JC: I play the part of producer, conductor and multi-instrumentalist, but my role evolves based on the ensemble. These days I'm on saxophone, percussion, voice, a public service radio, and some modest effects. I've eschewed guitar of late, though I played bass when we did our duo stint, which the dub side of my brain enjoyed. I've played minimal synth as well, but mostly taping keys down to drone, or as something to "bonk" as an aside. We've included Emily Saab on drums since inception, holding the fort, bringing the fireworks, keeping us grounded even as we are ever lifting-off. Stephanie Tierney was crucial in pre-Usse imaginings, and later took up bass and guitar duties, the vast majority of which she handles on our Flowers For S. record. Sebastian Fleet is our newest collaborator, also in the bass and guitar department, but who makes his Usse recording debut playing viola on "Indoctrinaires". We've likely had 4 or 5 recognizably different incarnations in as many years, but some variation on this ensemble has held the line in all but the first.
RB: What are you doing when you aren't being musicians in Usse?
ES: I've been putting a lot of time and energy into Visitors, a collaborative business and art project I started with my friend, KC Wilcox—it's both a passion project and my day job that I feel really fortunate to have. I spend a couple days a week and evenings working in my home studio on my visual art practice. Other than being a musician in Usse and making art, I like to spend time gardening in our yard, learning about local history, watching paranormal TV and hanging out with our family.
JC: I worked at a print shop until last week, but am forever spoiled by visions of past independent newspaper and community radio days dancing in my head. Sebastian is a jazz weirdo, music instructor, and local axe-slinger and performer, both in his own right and with a number of groups. Stephanie is a permanent Usse reservist, presently making wildly imaginative and coldly psychedelic illustrations out of Wolfville, NS.

RB: Emily, what goes on at Visitors?

ES: KC and I opened it just over a year ago. It's a little hard to pinpoint what it is exactly, but we've settled on describing it as a studio and consignment shop. We sell clothing, jewelry, accessories and artist-made works like books, zines, prints, sculptures etc. We like to refer to it as a studio, too, because it's our collaborative platform—we've worked together to build this wild business/art project and are now in the beginning stages of producing a house-line of products for the shop. Another major component is that we host quarterly exhibitions, music and dance performances, readings, and once we even had a pop-up restaurant take over the space. It's proven to be a really flexible project, one we'll continue to push and experiment with.
RB: Fantastic. So, I feel that musicians should be as creative and thoughtful about how they put out their music as what music they put out. Usse seems to share this feeling. What are the few different approaches you've used to take Usse from the studio to the people?
JC: The "how" and "what" together are core to Usse' intentions as a vessel—the presentation or format by which we release was key from the beginning. It was fate to have received an invitation to the debut Pentagon Black compilation, and that provided a springboard for Usse. For us, there is always some kind of physical media, even if it is an edition of one or two as part of an audio installation or cassette listening station somewhere. We've done short runs of self-released cassette singles and EPs, full lengths on CD, and paper records now of course, all of which often involve a great deal of hand production, finishing, and home duplication. The secret alter ego to Usse in this sense really is our Extra Final imprint, that releases our work. As much as possible, what we do is homemade, handmade, limited, or temporary in availability.

RB: What approach are you using to release Rags of Declaration?

JC: This is the first release on Extra Final to involve a non-Usse artist in H. de Heutz, which is an honour! It is also our first self-released paper record. Initially it was intended as a quick and dirty response to the 2019 Canadian federal election, but through correspondence and collaboration with Nathan Medema of HdH the single grew into much more. We conceived of this printed card based on election ballots, something that is disposable or destructible. The folding design furthers its physicality and relationship with its handler, and we're also kinda excited and curious about the added aspects of commitment and anticipation that mailorder brings to the release. It can be streamed at Bandcamp, but it can only be downloaded by placing an order and awaiting the arrival of your numbered card with individual code.

As we were completing work on this we watched the mobilized lawlessness of our government, industry, and police unfold against Wet'suwet'en. We felt it necessary to respond to this moment in release. We decided to offer the card up in recognition of all who have stood in solidarity with Wet'suwet'en, and so determined that all proceeds will be donated to the Tyendinaga Mohawks. The Mohawks of Tyendinaga were among the first responders in alliance with the Wet'suwet'en, and who have themselves weathered the consequences of this role, including raid, arrest, and displacement.

RB: The Usse track ("Indoctrinaires") follows a hard-to-label strand of the band, kind of like "Bad Gateway" on Pentagon Black Compilation No. 3. I'd call it a track that cares mostly about poetry and political expression—it's not like the atmospheric things you do. The instruments are on deep background. It's mostly words. It's distant from the krautrock thing you do, but seems inspired by the politics of the krautrock scene (ie. early 1970s Berlin). Like, vintage radical student politics street theatre poetry, but it actually deals with Canada's here and now. Am I even remotely close to understanding what's going on here?
JC: In the execution department, "Indoctrinaires" falls somewhere in the space between Crass and Don Cherry (the trumpeter, not the loudmouth). To a large extent, the words stemmed from feelings of frustration, resentment and anxiety felt during the election, in particular over the mendacity and cynicism of yet another tired game of "First Past The Post." Settler Canadians and our state are intrinsically tied to colonialism, each of us performing inside this reality every day. Our part is something we can confront and determine to an extent, but that we participate is a matter of fact. People of European descent have passed down power through policy and paperwork since the Treaty of Tordesillas in 1494, when Spain and Portugal first carved up the spoils of Columbus' "discovery". I believe in the potential for democratic elections, but there will never be real democracy in Canada so long as we continue to follow the scraps and rags of this centuries old paper trail.
RB: The other side of the split is by titled "Postfix (Post-Pre Fix)" by H. de Heutz. Can you walk me through it? Who is H. de Heutz and how did you connect with them?

JC: It was actually a string of small events that connected us. Usse had performed a show with Fet.Nat (via our friends in Motherhood), who include in their ranks Olivier Fairfield, also of H. de Heutz. We had given Olivier a cassette called Cancelled Crop that included little cards we printed, sharing excerpts from the Truth and Reconciliation Commission and a First Peoples Law article. Olivier passed a copy of this cassette to Nathan, who pleasantly surprised me months later with a thoughtful note of introduction, and invitation to join them on a small East Coast tour. Fast forward to last Fall, when "Indoctrinaires" was in its incubating stages, and H. de Heutz were the perfect bedfellows with which to share in this riposte.

"Postfix (Post-Pre Fix)" is a brilliant rhythmic reimagining of the B-side to an obscure 1981 single by a group called Pre Fix, that I will allow readers to discover for themselves. It is a perfect partner and counterpoint to our track, in its structural, aesthetic and political intent. On top of this, as two groups who blend electronic and acoustic elements, this is also by chance their first fully electronic composition, while "Indoctrinaires" is our first fully acoustic one. As the project progressed, we both felt strongly that this not simply be packaged as two songs piggybacking one another, but a unified single release, and I think "Postfix (Post-Pre Fix)" is a vital part of our having achieved this together.

RB: Usse is finally playing outside the Maritimes. What's the deal? Why have we had to wait so long for this?

JC: We are! I think and hope, at any rate. I was told details of this were allowed to leak, but all things considered, out of respect to the folks running that show, I will keep those cards close to the chest. What I can say is that we have an opportunity to visit Montreal this June, but it's understandably hard to think or plan ahead right now, certainly towards anything in the next couple of months. Truthfully though, one of the primary cornerstones of Usse is that we go at our own pace, with whomsoever is along for the ride at the time. We have some "rules" I like to say we try to follow. "Not rock" or "no choruses", for example. In the case of our output, we try to incorporate accommodation for all participants, and so constantly pushing on to the next gig is just not one of our priorities. So I guess that rule would be "no rush".

We prefer to take time to prepare group, site or show-specific efforts, and to create through studio and experimentation processes, as much as in rehearsal. I look ahead to what we wish to accomplish in terms of years, more than days, weeks and months. We might even be on some kinda decade billing plan. I intend to be doing this sort of thing with kindred spirits for the foreseeable future.

RB: Local 107.3 FM seems incredibly dedicated to local musicians. Nine out of their 2019 top ten most played records were New Brunswick acts. Six of those were from Saint John. Meanwhile, the rest of Canadian campus radio is waist deep in Necking, Orville Peck, Daniel Romano and Black Mountain. It's like the Local 107.3 FM world stops at Sackville and Edmunston. This is amazing. Do you know what's going on there?

JC: I had the great fortune of working at Local FM throughout the better part of 1998-2015, and I can honestly say that the music culture at the station is one of genuine enthusiasm, pride and support for local and regional music. It's baked into the namesake of course, and their staff and programmers continue to carry a serious torch for the NB and Maritime music community.

RB: Are there any other new Saint John and environs music acts, labels, or music-related entities we should know about?

JC: As someone who has been involved in what is a small local music community since the mid-1990s, I am always so excited when I am fortunate to find myself beholden to new (or new-to-me) and engaging corners of the scene here. I had just such an experience recently, in encountering Moondrip Collective, which near as I can tell stems from the work of some artists called Artifiseer and Stellaleona. It's all pretty fresh to me, but I just finally saw these folks live for the first time a couple weeks back, including another act called White VHS, and it was just brilliant. Stellaleona took the roof off the place.

RB: What two Pentagon Black bands could you tolerate going on a coast-to-coast package tour with?

JC: We've had the great fortune of good company with a number of PB groups, but I could see a sweet combo including Usse, Skin Tone and Protruders having a go at an oddly auto-destructive cross-country revue.

RB: How would the Saint John leg of that trip look? Where are the bands playing/eating/sleeping? Is everyone doing anything the day afterwards, or are they just driving to Sackville to hang out at Thunder & Lightning forever?

JC: I feel strongly that folks should be looked after, especially if every show for groups of our size and nature is not gonna be a windfall. Being comfortable, feeling ready for the coming day, feeling safe, these are important things, and we often host folks we are booking or playing with. We may have played at one of very few reliable venues in Saint John, such as Taco Pica or Callies, but there's a good chance it may also have been a loft party or gallery show or other pop-up location. It's possible a breakfast at Topps Pizza would follow. Let's pop in and say 'Hi' to Emily at Visitors after that. Backstreet Records is recommended for shopping or to leave stock. Then, certainly, a pleasant drive to Thunder & Lightning and another lovely night near the marshes.

RB: How are you folks coping with Covid-19?

ES: In the past week-and-a-half since closing our storefront, KC and I have transitioned Visitors into an online shop. It's been a big hustle to make it happen, but this means we can continue our work. Local business owners have been incredibly supportive of one another, and I think we'll come out of this as a stronger community. Working hard and staying on task has helped me from focusing on the feeling of sadness.

JC: It's bizarre—it's a rare time when you can literally say "everyone is dealing with this," so it goes without saying this has been a deeply unusual and affecting experience. I was laid off from my job last week, and had been away from work since the previous week, so I'm finding ways to be productive in the decompression of time and space while isolating. Personal matters are being looked after, alternate and future incomes are being imagined, creative thoughts are bubbling in the background. I am generally trying more than anything to support Emily's work with Visitors right now, by taking care of business at our home.

This is admittedly interspersed with digitally reading and re-reading a slew of late '80s, early '90s X-Men and Spider-Man comics I had followed enthusiastically as a kid, which was an interesting experiment in memory. To read the last stretch of Chris Claremont's 15 year sci-fi-space-opera run writing X-Men, and then to have it followed up profoundly haphazardly by "rising star" artists who had never put a word to paper. It felt like driving off a cliff.

Otherwise, something that is unique for us right now as musicians—as we have (thankfully) not suffered the injurious struggles many have faced—is the commitment we've made to donate all proceeds of our new single to the Tyendinaga Mohawks. While we would probably be content with allowing a release to slide by in the face of a pandemic, the pledge to donate sales of this record needs to be maintained and honoured. So, we're looking at this as a soft launch. Already we've been able to raise and give $100; I feel grateful about having accomplished that, and the release will continue to serve its intended purpose until we can sell all 200.
*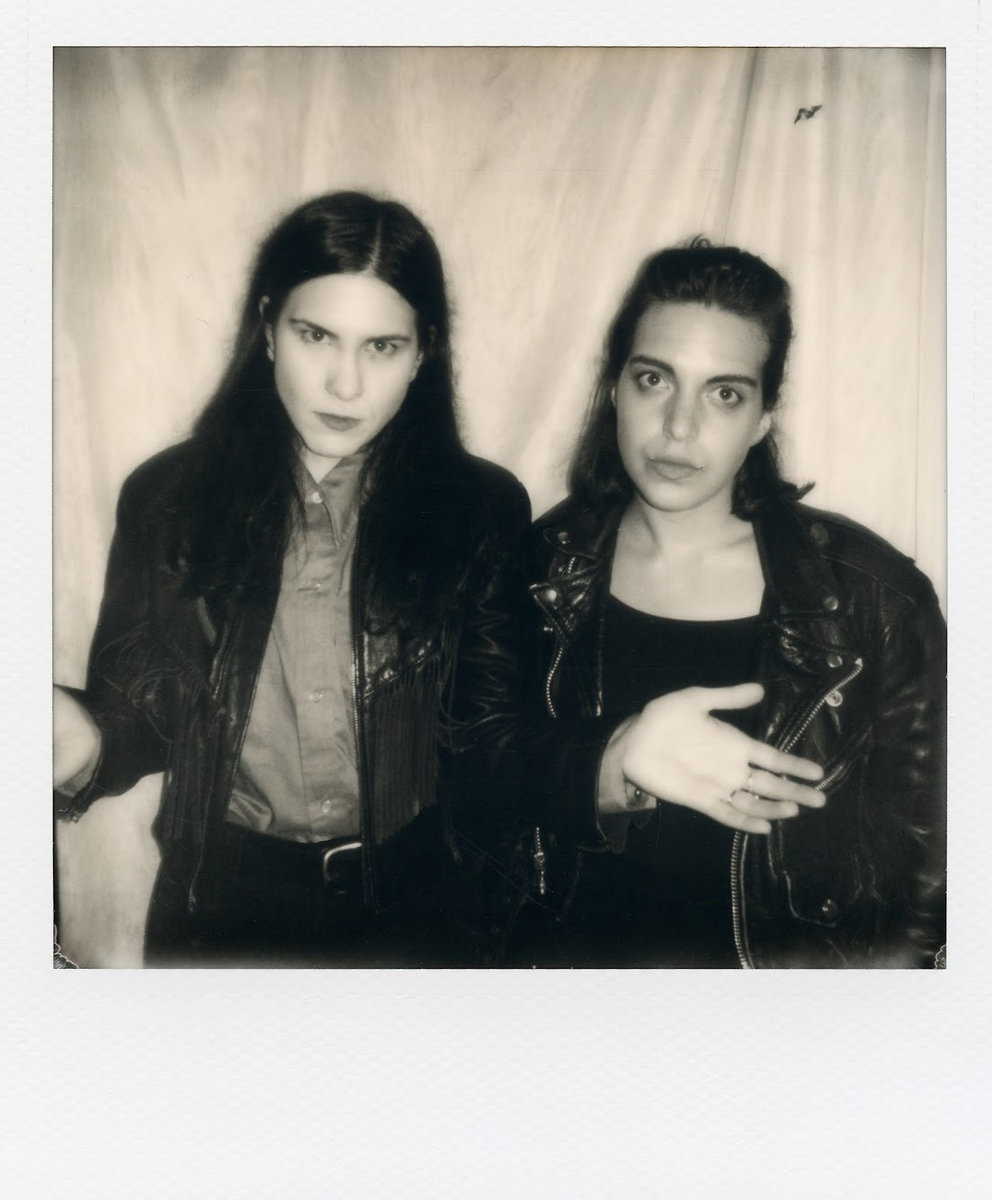 Bonnie Trash in Discussion 31 Jan. 2020
Interview by Raymond Biesinger and Photo by Kate Killet
We've described Bonnie Trash as "Guelph's art-wave horror menace-synth act centred by intelligent twins," but that's only a glimpse of what they're up to. Add the following to the list: they're involved in Girls Rock Camp Guelph, gig around their region, festival-hop like grasshoppers, steer something called FPOP, play in local supergroup cover band the Frosted Pits, perform as "Bonnie Sabbath," collaborate with unexpected collaborators, etc. Additionally, they recorded "Goodnight, My Dear" for Pentagon Black Compilation No. 4 in 2018 and it's currently being rerecorded for an upcoming BT full-length. Given that Guelph's dear-to-us-and-many Kazoo! Fest is closing after its 2020 instalment, we thought it was a good time to check-in with one of our fave Royal City exports. Things discussed in this interview include:
Bonnie Trash (http://fuckpop.ca/bonnie-trash, http://bonnietrash.bandcamp.com)
Pearle Harbor (http://www.pearleharbour.com)
Guelph Lake (http://wikipedia.org/wiki/Guelph_Lake)
Tall House Recording Co. (http://www.tallhouserecordingco.com)
Kazoo! Fest (http://kazookazoo.ca)
Steph Yates (http://stephyates.com)
Oromocto Diamond (http://www.p572.com/oromoctodiamond)
Deathsticks (http://buysomedeathsticks.bandcamp.com)
Nicolette & the Nobodies (http://nicoletteandthenobodies.bandcamp.com)
POSI VIBEZ (http://www.posivibez.org)

RB: Bonnie Trash is Emmalia and Sarafina Bortolon-Vettor. What roles do each of you play in the band, on-stage, and creatively?
EB: Sarafina is the main songwriter and vocalist. She plays octapad, drums and synth in recordings (sometimes live). She has also directed all of our music videos. Sara is the project manager.

SB: Emmalia is the main riff-writer and guitarist. She works on set design for our music videos and does a lot of grant writing/the nitty-gritty admin work.
RB: How do you two pass your time outside of the band? Jobs? School? Hobbies? Pets?
EB: I am back in school and hopefully starting a Master's program in the fall. I tutor younger folks with developmental differences and teach guitar and music appreciation with a focus on composition. On my off time, I like to shoot B-roll, especially landscapes and insects. The cover of our latest 10" is a dead dragonfly I photographed in PEI this past September.
SB: My cat, Sydney, is extremely talkative. A funny old little fella. I enjoy listening to records and spending time with my little pal whenever I can. I am currently working on a Master of Education in Educational Leadership, focusing on how creativity empowers womxn. Outside of the music, I am slowly working on a film script. It's in the horror genre. What did you expect?!
RB: OK. I know that as a live band you bring a few other people on stage. And in Bonnie Trash's other audio and visual pursuits you've worked with everyone from animators to drag performers to "A Sea of Womxn" at Lake Guelph. Who are some of these people?
SB: To name a few of them… We grew up with Justin Miller, who is the creative mind behind drag performer Pearle Harbor. We have helped each other with projects since high school, so of course we would have Pearle on our team and as our muse. We are working with Pearle as their backing band in their show, Distant Early Warning. Another one of our collaborators is Em Damaschin, who is an up-and-coming engineer and producer. They've been a great comrade in helping us develop new sounds and experimental recording set-ups.
EB: I am excited to share a project I've been developing for a while: I created self-made reverb from the voices of womxn, generated at Guelph Lake. It's called "A Sea of Womxn." I tried to catch the reverberation of womxn's voices bouncing off of the water, but the wind set in. Instead, we circled around three microphones and collectively made sounds that are negatively associated or attached to descriptions of womxn (ie. vocal fry and cackling), along with performing Pauline Oliveros' Worldwide Tuning Meditation. I created impulse responses from this performance, with engineering help from Em Damaschin, and want to use them to generate new reverbs for our songs. Sara and I did another session at the lake with other local vocalists, to yell and harmonize some of our songs—thank you, Alanna Gurr, Annie Sumi, Steph Yates, Emma Howarth-Withers and Nicolette Hoang!
SB: Our newest song and video ("Shades of You") is based on a dream I had of a witch trying to take my soul to the depths of hell. I directed this video, my friend Liam Magahay is a fabulous filmmaker who shot and edited it, and our brilliant artist-friend Steph (who was also in on "A Sea of Womxn") created eerie animations. Emmalia and I recorded the song and Em mixed it. What a crew! And, we are all Guelphites.
RB: What are you going to do with this army?
EB: Well, make a lot of overwhelming voices. The record we'll be coming out with later this year (A Call To Aradia) is about a witch, Aradia, who tips the raft of patriarchy. A sea of womxn will overwhelm and flip this imbalance of power.
RB: You're making a new LP happen in 2020. What has the typical Bonnie Trash recording session looked like for this record? It seems like the BT studio isn't just a soundproof room with a door and microphones in it.
EB: The typical Bonnie Trash recording session is never the same. We started outdoors at Guelph Lake with some Rhode NT5's and an Electrovoice RE20. We bounced a DI signal into three different guitar amps to record a giant tone; then we were somehow able to play with a Manley mic to capture Sara's voice and improvised cello tracks from Charlotte Moore, which happened in our living room. We borrowed a friend's acrylic kit and played with a slew of mics to capture that classic '70's sound. We want to go into studio to retouch and polish up some stuff, too. So yeah, the team is expanding and this is our process so far. Em has been one hell of an engineer.
RB: Can you tell us anything else about this upcoming record? When will it be out?
SB: I wrote a song, "Iona." It's about a woman burning a field on fire, and another, "Have You Seen Her." "Goodnight, My Dear" is about letting go, healing after trauma, taking a bath after feeling utterly gross and betrayed. You're telling the one you loved, "goodnight" for good. We are calling Aradia to help us tip the raft of the patriarchy in her waters. There will be 7-8 songs on the new record. We will be releasing the album like small drops of water, trickling every so often…
EB: It's inspired by the feminine power of water, and the album focuses on the cannibalistic, social, dynamics of power in relation to how the digital voice is consumed and amplified. We call it a modern exploration of oppression in the context of consumption. It features that sonic sea of womxn.
RB: Wow. OK. That release is in the near future, but about the recent past… I just listened to that Bonnie Trash/M. Mucci lathe-cut four-song 10" split on Tall House Recording Company and it's incredible. What a good pairing, putting BT's dark electronics and pulse next to the traditional/mournful electric guitar instrumentals. Who's M. Mucci and how did this match get made?
EB: Right on! Mike Mucci plays in an improvisational group called Snake Church. I was introduced to Mike by Ben Grossman (the second half of Snake Church and a super-cool hurdy gurdy player) for a carpool to a Keiji Haino concert. There were four of us in a car and we hit it off talking about our nonnas. Mike publishes his solo works on split albums with musicians he digs. When he asked us, I was elated. He's an incredible slide player.
RB: You two work with so many local people, but let's imagine you two are gods who can give an out-of-town touring band an ideal 24 hours in Guelph. What would that gig-and-stay look like? Where are they playing? Who with? What are they eating? Where are they sleeping? What are they seeing and doing?
(Editor's note: this is a written interview. At this point Emmalia and Sarafina's responses merged into a singular voice. It's a little disorienting, given they'd previously answered everything as individuals, but it's also inevitable, re: the connectivity that comes with being in an artistic duo on top of the "twin connection" thing.)
BT: Alright, so in an ideal situation with some imagination. Here it goes. There is a cut of rock that looks like an amphitheatre out by Stone Road, across from Barber Scout Camp. If there was enough electricity, this would be the coolest venue ever. Buuuut if we are looking at electricity, we always thought it would be awesome to have a show at the Guelph Little Theatre with the band opening for the Melvins, Nicolette and the Nobodies, and the host of the night is Athena McQueen.
Dinner is at Nguyen's out by Speedvale Avenue or Na-ha-Thai's on York Road. Breakfast is at Nonna's house. 10 AM, don't be late. Lunch/Brunch is at Augusta Louise on Carden Street. Snacks: Fred's Food Co. and Eric the Baker. And if we had a larger apartment the band could totally stay with us. Or Nonna's house.
Some things to do and see: hike at Guelph Lake or the Smith Property for inspiration, go to the Making Box for late-night comedy (it's the only blackbox theatre we have in Guelph), Eat a croissant at Eric the Baker, coffee at the Common, see a movie at the Bookshelf Cinema, enter a time warp at Len's Mill Store, walk through the Art Gallery of Guelph, then smoke a joint with us around a campfire at night.
RB: Sign us up? Ha. I'm struck by the size of the competent, interconnected, gang of people who are doing things in Guelph, which is maybe a tenth the size of Montreal. Kazoo! Fest has been one of a few centres of that gang for 17 years, but after this year's fest it'll will be closing up shop. For the Famines as a band, Kazoo! was an important intro into Ontario's music scene, and if it wasn't for the old CFRU Music Director Peter Bradley and Kazoo! we wouldn't know the first thing about Guelph. What has Kazoo! meant to Bonnie Trash?
BT: Kazoo! took a chance on us. They took a chance on a lot of artists. As soon as we resurrected Bonnie Trash after ending the Folk in 2016, we played at the Cornerstone and then the festival's anniversary show later that summer. That was the first large audience we played to in Guelph as this outfit. Kazoo! has been an endless support system in representing us at sister festivals, supporting Girls Rock Camp Guelph fundraising, and providing excellent sources of advice.
RB: Every end is a beginning. The festival may be over after this April, but I bet the Kazoo! personnel are up to all kinds of other schemes. Know of any cool things ex-Kazoo! people are working on/dreaming up for the future?
BT: Steph Yates has launched a new musical project called COTS. She has just finished recording her album with Sandro Perri and we can't wait to hear it. Chris Worden is working on his PhD and writing a chapter in a book. He's fuckin' cool.
RB: I know this question is self-serving, but who are your fave Pentagon Black recording artists?
BT: the Famines, Oromocto Diamond, Deathsticks, Steph Yates.
RB: Are there any new music acts or labels or music-related entities we should know about. Coming out of Guelph?
BT: Check out Nicolette and the Nobodies. They're on fire and our drummer, Dan Paille, is in it! If you are into Gypsy Jazz music, Adrian Raso's newest album is stellar and he has been Emma's guitar teacher for close to 18 years. COTS (Steph Yates)! Mark Ferrari (from the Folk) is working on a new album and we can't wait to hear it. I Feel Sorry is also working on a new album and it's certainly going to roar. Alanna Gurr is releasing new music, which is pretty darn exciting, too. POSI VIBEZ are based out of Toronto but are doing some really cool curations and dance parties. BANDS & DRAG is also out of Toronto created by Stephen Conway—it is such a pleasure to play these shows.